4-Soft and WarriorFunds inks partnership agreement
March 8, 2023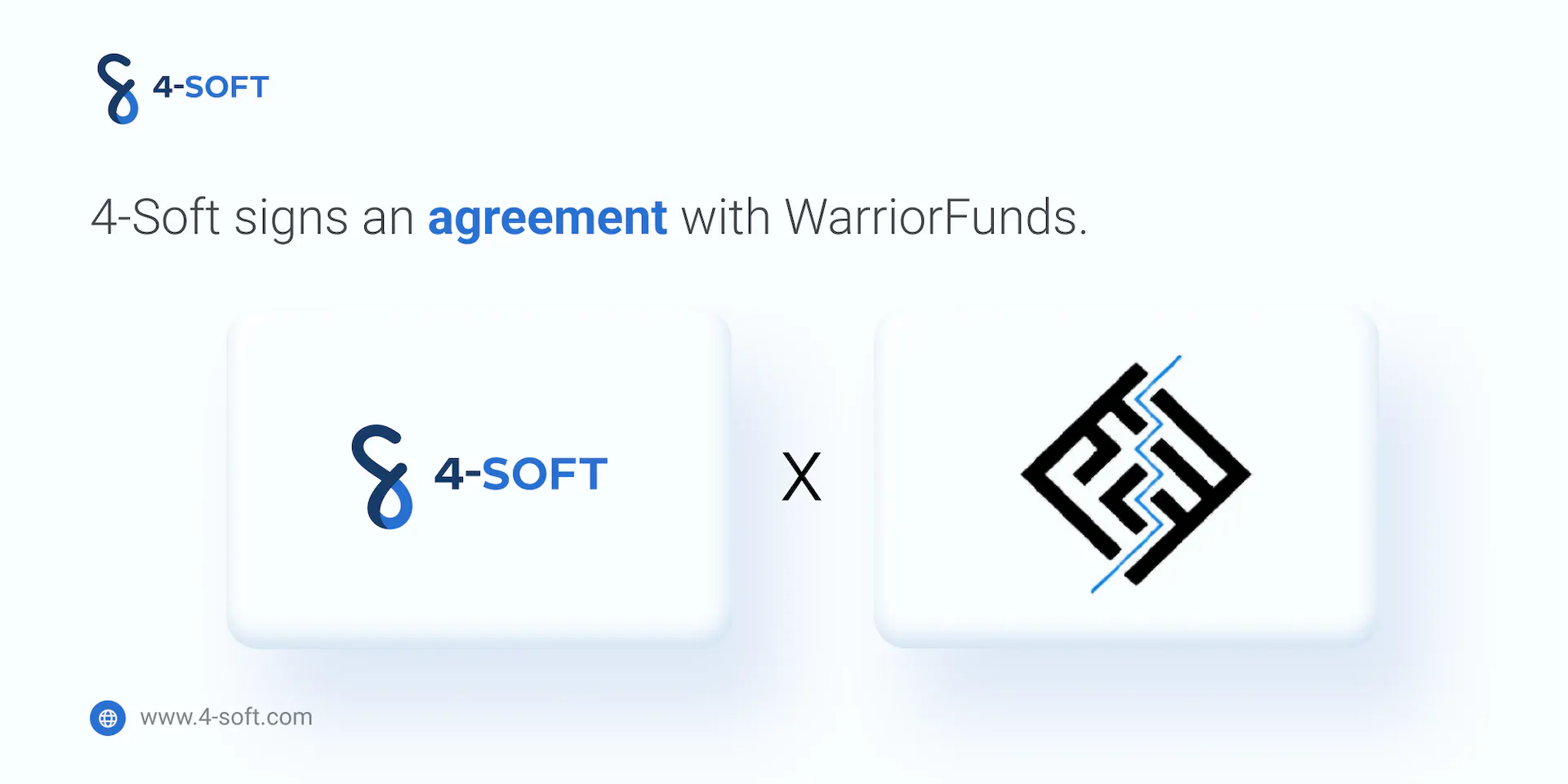 4-Soft is pleased to announce the successful conclusion of a partnership agreement with WarriorFunds. We are honored to welcome WarriorFunds as a valuable shareholder in our organization, and we look forward to benefiting from their experience and expertise as our advisors.
As a result of this partnership, 4-Soft is poised to expand its reach into new and exciting markets, thanks to the leadership and guidance of Tony Jones, Jon Stine, and Richard Haddad. With their extensive knowledge and skills, we are confident that our organization will achieve its strategic objectives and secure the necessary financing to support our growth. This collaboration represents a significant milestone in the history of our company, reflecting the potential we are reaching for and the ambition to take our operations to new heights. We are excited about the opportunities that lie ahead and look forward to a productive and mutually beneficial partnership with WarriorFunds.
WarriorFunds focuses on leveraging insights and innovation to create effective outcomes for our partners and our clients. As such, we are excited to be working with 4-Soft to bring their innovative and effective technology to the cybersecurity market; said Tony Jones - ex. American Express, BestBuy, and UnitedHealth Group, and now managing partner at WarriorFunds.
Together with him, Jon Stine, a former director of retail sales at Intel, and director of internet business solutions group at Cisco, along with Richard Haddad, the Vice President of Navistar Defense will lead advisory board helping 4-Soft enter new markets and achive our goals.
Brin Soko added: I am pleased to have the opportunity to work with such experts. For me the biggest news is Jon Stine joining us as an advisor - his immense pedigree will surely help us with not only the expansion but the development as well.
I am pleased to express my delight in welcoming WarriorFunds as a valued shareholder in our organization. We are particularly excited to collaborate with Tony Jones, Jon Stine, Richard Haddad, and the other 30+ accomplished advisors at WarriorFunds, whose impressive track record and expertise are an excellent fit with our growth aspirations. I look forward to building a productive and successful partnership with WarriorFunds that will drive our company's growth and success for years to come. Said Nejc Paradiž, CEO of 4-Soft
In closing, we are committed to maximizing the potential of this partnership and to delivering sustained value to our customers, employees, and shareholders. We are confident that this new chapter in our company's history will bring about new opportunities for growth and innovation, and we look forward to realizing our shared vision with WarriorFunds.